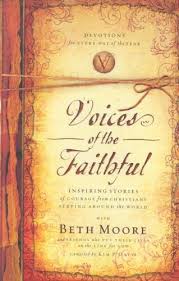 Voices of the Faithful is a daily devotional book compiled with stories from missionaries who have traveled around the world. These missionaries share from the core of their heart on what God has called them to do. To spread His Word.
There is a theme for each month. For January; the devotion is based on God's Character. Where stories are told how God has shone through the hard and courageous days of each of the missionaries. Other themes mentioned are; Prayer, Working, Compassion.
What made me choose this book, were the themed months, my love for every day devotions to read, but, also, these stories are from people who risk their lives every day to find the lost and bring each of them closer to Jesus. I have to admit that I am one who has never felt "called" to travel to the ends of the earth to share the Gospel. But, I think God must be stirring some kind of interest into my heart if He led me to choose this book to read, study and share with friends unforgettable stories of missionaries throughout the world.
So, with that, I am excited to ring in 2011 with Voices of the Faithful.